Facility Information
Overview
Welcome to downtown Boston's most complete parking facility. Garage At Post Office Square is conveniently located in the center of Boston's Financial District, just minutes away from all major highways and within easy walking distance of downtown office buildings, shopping areas, Quincy Market and the Waterfront.
This award winning facility, designed by Ellenzweig Associates of Cambridge, Massachusetts, opened in 1990. The Garage is designed for fast entry and exit. With bright lighting and easy to read directional signs, you'll enjoy a convenient parking experience.
The Garage is open 24 hours a day, every day of the year, with a manager always on duty.
Garage At Post Office Square offers more than just parking. You'll find accommodating attendants and helpful customer services including a year-round café in the park, shoeshine services, a Bank of America ATM machine, Bush Cleaners Xpress drop box, and well maintained public restrooms. You can even have your car professionally cleaned at our Professional Car Care Service Center.
Above the garage is the Norman B. Leventhal Park. This beautifully landscaped park offers an inviting green space in the heart of downtown.
Parking Rates & Hours of Operation
Parking Rates & Hours of Operation
Garage Clearance/Height Restrictions
Pearl Street Entrance: 6'10"
Congress Street Entrance: 7'6″
Lobby Level Parking: 7'6″
Level One through Level Six: 6'10"
* Parking for oversized vehicles limited to lobby level only. Please contact us for additional information.
Accessibility/Handicapped Access
Vehicular entrances to Garage At Post Office Square are on Pearl Street and Congress Street. Vehicles that are over 6'10″ should only use the Congress Street Entrance.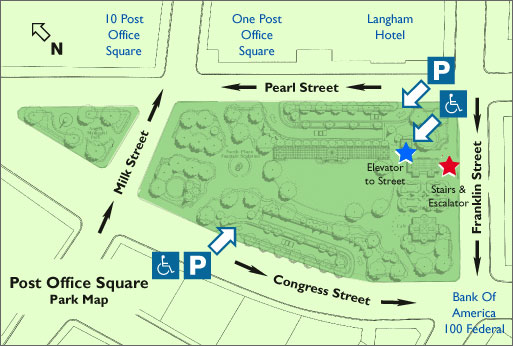 The garage has Accessible Parking spaces available on the Lobby Level. Pedestrian access to and from the garage is available via elevator

, escalator and stairs

.
Maps & Directions