Welcome to Boston's Premier Parking Facility!
In the heart of Boston's financial district, located under the landmark Norman B. Leventhal Park, this full-service parking facility is both convenient and pleasant to use. Enter on Pearl Street or Congress Street. From the gracious main lobby with its high-quality finishes, fresh flower arrangement and efficient cashier services, to the spacious well-lit parking levels with easy-to-follow directional signs and colorful graphics, you will find The Garage At Post Office Square to be Boston's most convenient and enjoyable place to park!

Because we provide services to essential workers at area businesses, the Garage will remain open, with reduced staffing, however we are still paying all of our employees.  We have curtailed all of our extra services at this time, in order to maintain social distancing, but welcome you to contact us by phone or email –617-423-1430 or p.o.info@nullposquare.com.  Please wear a face mask inside our Garage and in the Park.
If you contacted us to suspend your Preferred Card account, your account will remain suspended until you contact us to reactivate it.  
If you wish to reactivate your Preferred Card, please contact us with a start date and we will issue you a prorated invoice and reactivate your card.
Until further notice, Sip Cafe and Jayne's Flowers are closed.

Post Office Square is mitigating 100% of its electricity footprint with renewable energy under a 25-year Power Purchase Agreement, partnering with MIT and Boston Medical Center, to purchase all of the output from Summit Farms, a solar project in North Carolina. It is the largest renewable energy project ever built in the US through an alliance of buyers and in aggregate, the expected 146 gigawatt-hours of emissions-free power per year will result in the abatement of 119,500 metric tons of carbon dioxide emissions — the equivalent of removing 25,250 cars from the road. Learn more about the project here.

To conserve drinking water, The Garage at Post Office Square has recently installed an Integrated Water Management & Green Infrastructure system which uses reclaimed groundwater to flush our toilets. We use a blue dye to easily identify the non-potable water.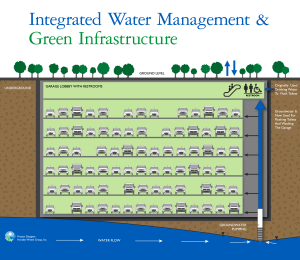 The Garage at Post Office Square pioneered several novel and award-winning construction technologies. As part of our sustainability effort to conserve resources and enhance efficiencies, Friends of Post Office Square has invested in an innovative system which allows the Garage to use much less water, without minimizing our first-class building operation.
The seven-level Garage extends 80 feet beneath the street to a depth where groundwater saturates the soils. In order to prevent flooding, groundwater is collected in a deep well beneath Level 6. Since the Garage opened in 1990, excess groundwater in the well has been pumped into Boston's combined stormwater/sewer system.
Our new groundwater reclamation system allows us to re-utilize the groundwater to flush the toilets and wash the floors in the Garage, reducing the amount of high-quality drinking water the Garage uses in its operation. We are saving thousands of gallons of drinking water every week, water that is transported to Boston all the way from the Quabbin Reservoir in Western Massachusetts. By using the groundwater before it is pumped off-site, we are also dramatically reducing the Garage's sewer output.
Our project conserves drinking water, recycles the local groundwater that is pumped for dewatering, reserves treatment capacity at the MWRA treatment plant at Deer Island, and reduces our annual water and sewer bills by more than $10,000. The design is an example of Integrated Water Management and Green Infrastructure – a new way of thinking about our water resources. It focuses on sustainability of resources: using local sources of water and re-thinking our use of limited high-quality drinking water for non-potable purposes.